Accomodation
You can easily find the most suitable accommodation – there is a wide range of wellness and premium hotels you can choose from
Having a holiday during dental treatment
1
Hévíz – a paradise for tourists
Our dentistry is situated in Hévíz, in one of the largest therapeutic – wellness and touristic centers of Hungary. This is where Europe's largest natural thermal lake, the Hévíz Lake lies.
2
A wide choice of hotels
We can satisfy individual needs as well: besides 4-5 star hotels, smaller hotels with a familiar atmosphere, we can offer premium apartments as well.
3
Going to the beach at Lake Balaton
The lake is situated next to Hévíz – an ideal destination for water sports lovers and also for those who like active leisure activities (cycling, hiking, hunting) and are also interested in gastronomy.
4
Cultural activities
Keszthely – the capital of the Balaton region – is just 8 km away. This small town is famous for its beaches and cultural programs: 14 museums and the famous Festetics Stately Home is awaiting the tourists.
5
Accomodation
We can help you find and book the most suitable accommodation and save you a lot of time and energy in this way.
6
Transfer
To give you the highest comfort, we can offer a transfer between Hévíz-Vienna/Budapest Airports or even between accommodation-our dental clinic.
Please ask for our price offers!
Our special offers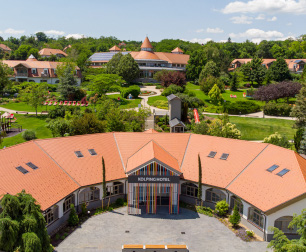 Kolping Hotel
Alsópáhok
Kolping Hotel
The Kolping Hotel ****superior, located in the vicinity of Hévíz and Lake Balaton, is not merely a one-off holiday destination. It's a second home. A place where it's always good to escape to, where you can freely recharge and spend time together.
Each and every corner of the 10-hectare park is a delight. Playgrounds, trampolines, a pedal go-kart track... In the vast play empire of Bobo Land, children are entertained every day of the year with craft activities and children's programmes. As well as playing together, families can also have the children supervised by qualified kindergarten teachers, so parents can relax in the quiet spa, recharge with a beauty treatment or enjoy a relaxing couples massage in private. The fun can then continue in the family swimming pools: target shooting and a tunnel of courage in the water playground, followed by a big slide on the blue snake into the children's pool.
After all the adventures, you can replenish the energy lost at the buffet dinner, where traditional dishes are complemented by children's favourites, with special arrangements made for guests with food allergies. In the evenings, families can enjoy the comforts of home in the rooms with baby-friendly accessories and a separate colourful children's room in the suites.
Book your accommodation!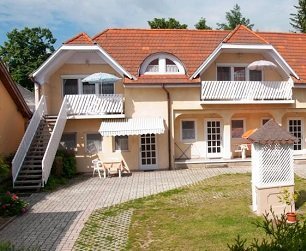 Gyula Villa
Hévíz